Plasterboard: a versatile material
In the choice of materials to use to compose one's  idea of ​​environment, but above all to characterize the shape and contour of a space , the plasterboard is certainly the most versatile.
It is currently the most widely used building material for the fact that it is cheap , because of its speed of application , due to its appreciable qualities thermo-acoustic , fire retardant and water-repellent but especially for its plasticity.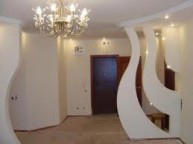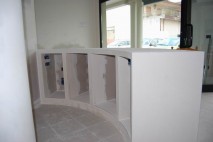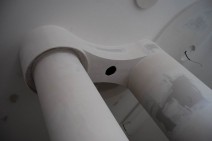 Plasterboard is a sheet product formed by a layer of plaster of hollow enclosed between two sheets of cardboard resistant and adherent . The elements are supported by a metal structure that gives the whole high resistance .
The flexibility of the product allows you to make partitions on the flat , false ceilings and elements of all kinds, including furnishings . You can give free rein to your imagination and create walls , corners , shelves of any shape , hoods, veils with recessed spotlights , columns, half-columns, walk-in closets or even the beautiful custom libraries.
Among the advantages in using this medium , there are then the rapid laying, but also the possibility to change the wall , compared to a brick masonry , the possibility ​​to insert tubes  in the cavity , the possibility , finally , not to perforate the floor or parquet' using a specific double-sided tape to anchor , which results in the possibility , therefore, to achieve the finish plasterboard in the furnishing and not during construction , without upsetting the space or even at a later time .
The thickness of the plasterboard varies according to the application request : usually a plasterboard wall can have a thickness of 8-10 cm, comprising two outer sheets of plasterboard and ainterspace usually filled with insulating material and / or acoustic ( for technological performance ) . For a library or furniture you can get to a thickness of 5 cm ( in order to maintain the characteristics of resistance ) . For curved elements you can take thicknesses below .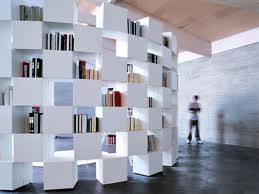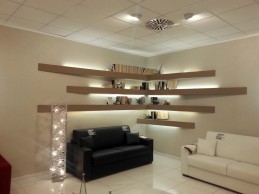 Once plastered , and whitewashed finished , the wall will not be distinguishable from a normal masonry wall .
There you can easily insert windows and doors (including sliding all ' inside of the wall ), you can also hang pictures and shelves made ​​item .
... The choice is yours .